About us
Zazim is a campaigning community for social and political change. We are a local movement whose activists work together to impact the public agenda in Israel. We are political, but not partisan. What brings us together is shared values of human rights, social justice, combatting racism and the occupation, environmental protection, government transparency and independent media. Our primary vehicle is online tools that enable us to quickly reach a wide audience, and through which we initiate campaigns and actions both online and offline. We believe that each and every one of our voices is worth more than a voting slip every few years. Our campaigns enable our movement activists to make their voices heard, engage and have an impact all year round during formative, decision-making moments. We are not connected to the government's systems and don't employ lobbyists in the halls of power, but rather are convinced that people power – when channeled in a focused and efficient manner – can change the reality on the ground.
Zazim is based on the OPEN work model, which has proven itself over and over to be effective in gaining influential victories of people power all over the world. Zazim is proud to be part of the global OPEN network, together with organizations like MoveOn in the United States, Jhatkaa in India, 38Degrees in Britain, Amandla in South Africa, GetUp in Australia, UpLift in Ireland and many others. Each of the OPEN organizations acts independently in their respective countries for a better present and future. We make use of the professional knowledge and experience of other organizations in order to produce winning, impactful campaigns, and in order to best serve our community.
We are an independent organization that does not receive any funds from governments, political parties or corporations. We rely strictly on private donations. We got up and running thanks to the New Israel Fund, which is currently our primary donor. We are proud of our partnership with the NIF, which is first and foremost based on shared values, and allows us to operate independently and resolutely to promote our vision. At the same time, the support of the our movement members is crucial for a sustainable movement. In just our first year of action (2016), we raised 10% of our budget small contributions from members just like you. This year, we are aiming for 20% to come from member contributions in order to ensure our independence and long-term stability – we invite you to join as supporters here.
Raluca Ganea
Executive Director and Co-Founder
Raluca is a campaigner and strategic adviser. Among other things, she worked for several years with the global campaign organization Avaaz.org, gaining valuable experience in managing social-political campaigns. Raluca has a BA in political science and philosophy from Tel Aviv University and is an Iyengar Yoga instructor.
Maayan Dak
Maayan is a feminist activist, involved in campaigns to end occupation, for asylum seeker rights, housing justice, and LGBTQ rights.
While working at the Coalition of Women for Peace, Maayan led campaigns aimed at disarming the domestic sphere, women's security index, and others.
Maayan has a BA in Jewish thought and an MA in Hebrew literature from the Hebrew University in Jerusalem. 
Benjy is a programmer, indie game developer and die hard gamer. An experienced developer for companies and startups, Benjy is also an active member of the open source project Blender and a lecturer for programming and gameas at Shenkar College.
Shada Zoabi
spokeswoman and Campaigner
Shada worked until recently as the Arabic spokesperson for the Association for Civil Rights in Israel. Previously, she served as a parliamentary adviser and spokesperson for Knesset Members Haneen Zoabi and Azmi Bishara. She studies international relations and political science at the Hebrew University.
Eli is a recent graduate of Brandeis University, where he earned a degree in Islamic and Middle Eastern Studies. He headed the Brandeis J Street U chapter, and led several campaigns on campus, including one to reinstate an academic partnership with Al Quds University in East Jerusalem. In his free time, Eli enjoys birding and hiking in nature.
Heli is an organizer for social justice, democracy and human rights. She has experience in coaching and training in the field of community organizing, in which she worked with Prof. Marshal Ganz at the Harvard Kennedy School as well as with "ANU – Making Change" in Israel. Heli specializes in the craft of storytelling and in developing the personal stories of campaign leaders. She is a graduate of the Masters of Public Policy program at the Harvard Kennedy School.
Yoav Einhar
Creative Director
Yoav is a graduate of Bezalel and the founder of Studio Einhar. The studio has worked on branding for many civil society organizations, popular campaigns, senior politicians and Meretz's last election campaign. Yoav lectures at several colleges in Israel on social-political design and branding in Israel.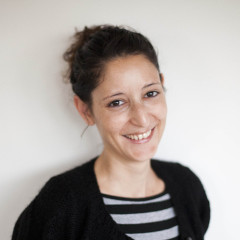 Ziv Stahl
Chair of Board of Directors

Ziv is the director of the research department with the human rights organization Yesh Din. She has an MA in political science from Tel Aviv University.
Nirit Moskovitch
Member of Board of Directors
Nirit is the D
irector of Public Outreach at Ir Amim. Previously, she served as executive director of
The Socia Guard, and as the spokesperson for the Association for Civil Rights in Israel. Nirit has an MA in public policy
.
Rawan Bisharat
Member of Board of Directors
Holds a BA in education, sociology and anthropology from Haifa University. Joined Sadaka-Reut in 2010 as coordinator of youth project. In 2015 she became co-director of the organization. Rawan is a board member of nonprofit System Ali, a member of the Coordinating Committee of the Coalition Against Racism and chairwoman of the Academic Union in Nazareth.
Sarit Larry
Member of Board of Directors
Sarit is the co-director of Mahapach-Taghi. She earned a PhD in philosophy from Boston College, where she was a research and teaching Fellow. For her doctorate, Sarit researched the impact different narratives can have on public participation in civic political action. Sarit currently teaches a Masters program course at Ono Academic College. Prior to joining Mahapach-Taghir, Sarit worked at several organizations, including Gisha. In 2014, she starred in the film "The Kindergarten Teacher." 
Tammy Riklis
Member of Board of Directors
Tammy is a content editor. She is the director and editor of the independent website Haokets. She previously worked at Haaretz.
Yonit Naaman
Member of Board of Directors
Yonit is a writer and editor. Her book Pining for the Tree Tops was published in January 2015. She is a graduate of the Mandel School for Educational Leadership and a PhD candidate in Hebrew literature at Ben-Gurion University.
Betty Benbenisti
Betty is a campaigner and media advisor. Among other things, she worked at the Van Leer Institute in Jerusalem, SHATIL and Sister – for Women in Israel .Founded and led media team of Democratic Workers' Organization. Her doctorate focused on social activism & independent online media. Currently lives in London and teaches communications at UEL.
Kholod Edres
Kholod has been the Arabic Education coordinator with the Association for Civil Rights since 2009. Before that she served as a co-director of Mahapach-Taghir, an NGO that works for social change through education & community empowerment. Highly experienced in education, community building & guiding groups. MA gender studies, BA sociology & HR from Bar Ilan University.